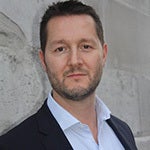 2019 Winner Profile
DAS Group
Tom Coram
COMPANY WHERE WON: DAS Group
AWARD DETAILS:
Learning to walk before taking on running is Tony Coram's mantra. Having built the tech foundations with his team, the Group Director of Customer Operations and IT at legal expenses insurance firm DAS is now ready to push innovation to the front.
He has just come to the end of a three-year programme of building an appropriate tech platform. Last year, for example, a SaaS e-trading functionality for the broker distribution network was embedded. This rationalises the sales and issue process in line with the other insurance firms that brokers deal with, and gives DAS a pricing analytics capability.
In 2018 Coram's function also implemented a cloud-based supplier management suite as part of an outsourcing and supply chain management capability. The move has also fully digitised procurement and supplier relationship management.
With a suitable platform and data landscape in place that can cope with innovation as well as business as usual, Coram is now moving on to the test and learn phase of a growth agenda.
LOCATION: Bristol, United Kingdom
INDUSTRY: Professional Services