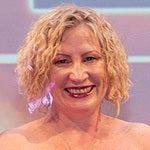 2019 Winner Profile
DAZN
Georgina Owens
COMPANY WHERE WON: DAZN
AWARD DETAILS:
Hot on the trail of commercial sporting rights for a UK launch, subscription sports streaming service DAZN has a startup mentality and an enterprise ambition. Georgina Owens, its SVP IT Services, came on board in late 2017 to bring maturity to the organisation without stifling innovation.
High staff churn had left the business with just one full-time employee while reports produced across the organisation (presented to the board of directors) were delivering vastly differing results.
Owens created an organisation structure and budget for a new tech team, and recruited 80% of the roles. She has implemented a risk-based framework for frequently released code, giving engineers the freedom to release frequently without being slowed down by change boards. She also intends to introduce a developer experience team to support engineers to be as productive and innovative as they can while avoiding a plethora of overlapping tools and technologies.
She has developed a new architecture for a fully cloud-based platform rebuild in 12 months, employed a third party to support and stabilise the existing platform and improve quality to a level that can be trusted by the board, reduced the platform bug backlog, upped the new functionality delivery rate, and introduced change and incident management.
Her team has now rationalised the visualisation tools for 650 users who access all data daily, and established a foundation for collecting live streaming data of trillions of 'heartbeat' moments for analysis.
LOCATION: London, United Kingdom
INDUSTRY: Entertainment Industry