CIO Magazine: July 1, 2007
A critical look back at the hype surrounding Web 2.0 and how it compares to the dotcom boom.
The Future-State CIO program is focused on making the future happen by advancing the CIO profession and helping it to play a larger role in driving, not just enabling, business strategy.
---
GE has been a great talent pool for companies seeking CIOs, but tough for headhunters to crack. That may be changing.
IT executives need to find collaborative business partners. Leaders listen a lot so they can tell what motivates people to act.
Read here for insights into how CIOs are dividing their staffs to do both strategic and tactical jobs.
Intel discovered that its employees were wasting about six hours a week on e-mail. To fix that, it instituted new processes to enforce good e-mail etiquette and behavior.
Can you increase sales by improving your external Web search strategy? CIOs who've done it share their secrets.
With new wireless technologies, vending machines can sell whatever can be crammed into them regardless of price.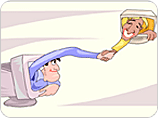 A guide to how CIOs can learn to live with and profit from consumer technologies.
How smart CIOs create partnerships and alliances to carve out a powerful role for themselves and their organizations.
White Paper

White Paper

White Paper
Sponsored by

HCL Software

Sponsored by

VMware Google