CIO Magazine: July 1, 2007
Can you increase sales by improving your external Web search strategy? CIOs who've done it share their secrets.
With new wireless technologies, vending machines can sell whatever can be crammed into them regardless of price.
---
Some states, privacy advocates have joined to fight the 2005 federal law aimed at better validating identification.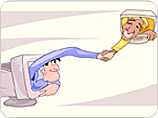 A guide to how CIOs can learn to live with and profit from consumer technologies.
How smart CIOs create partnerships and alliances to carve out a powerful role for themselves and their organizations.
How CIOs can forge internal relationships and exert influence within the organization.
Judge Google by its actions, not its self-proclaimed benevolence.
Motorola has found a way to keep your mobile phone charged using only sunlight.
The Windows administrator's role is key to a company's smooth operations.
White Paper

White Paper

White Paper