Sponsor: Omnivex Corporation
Communications Tools: A Key to Better Business Performance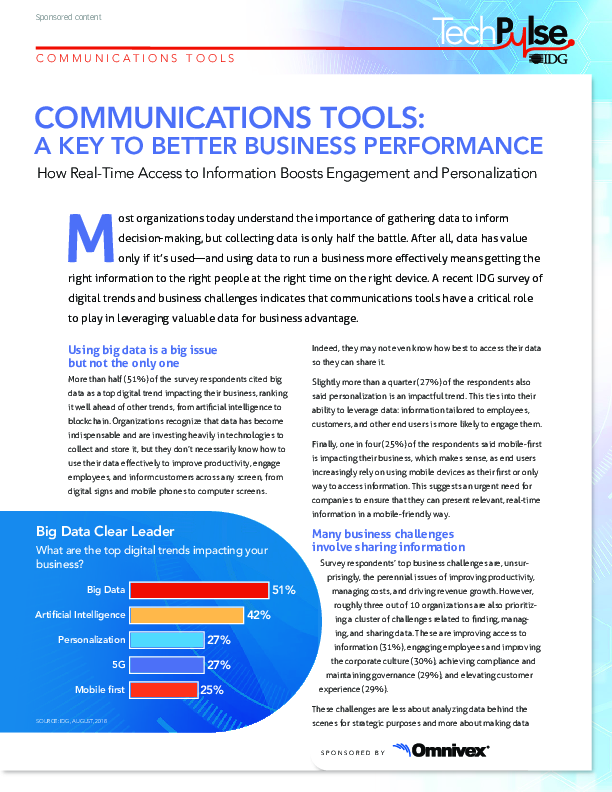 Most organizations today understand the importance of gathering data to inform decision-making, but collecting data is only half the battle. After all, data has value only if it's used—and using data to run a business more effectively means getting the right information to the right people at the right time on the right device. A recent IDG survey of digital trends and business challenges indicates that communications tools have a critical role to play in leveraging valuable data for business advantage. Download this Tech Pulse to learn more!


 Omnivex now offers a free assessment tool to:
Assess how well your existing communications tools are meeting your information-sharing needs
Provide benchmarks for comparing your results against other organizations
Suggest areas for improvement
Omnivex also offers communications tools to support that improvement through its software platform, which is capable of integrating data from multiple sources and distributing it to digital screens, tablets, computers, and mobile devices. Using the Omnivex platform, an organization can quickly create custom applications to gather relevant data, then push it out in real time to any screen, anywhere.
Grab a cup of coffee and spend a few minutes doing the assessment – it will  provide some great insight! Interested in learning more about Omnivex, visit our website www.omnivex.com or email marketing@omnivex.com.