The Targus USB 3.0 SuperSpeed Dual Video Docking Station connects to your laptop via a "SuperSpeed-y" USB 3.0 connection. In addition to the usual plethora of connectivity options found on modern docking stations, the Targus station also has input ports for two HD displays (1x DVI-I, 1xHDMI).
Hardware Specifications and Setup
The Targus Docking Station packs an impressive array of features and functionality, including four USB 2.0 ports, two USB 3.0 ports, a Gigabit Ethernet port and audio in/out ports. The two USB 3.0 ports are "high-powered," according to the manufacturer, and they still deliver power when the docking station is disconnected from your PC–I charged my iPad in this manner.
The Docking Station itself is designed with a gentle incline down the front meant to help you prop up your laptop. This raises the screen to an optimal angle and also allows for adequate airflow under the laptop. Finally, a Kensington lock slot means your Docking Station can be secured against theft.
The station comes with an external power brick and a two-foot USB 3.0 cable to connect to your laptop's USB 3.0 port, and the docking station is compatible with USB 2.0 ports as well. A couple of adapters are also included, an HDMI-to-DVI adapter and a DVI-to-VGA convertor, as well as replacement rubber feet for the docking station.
Setting up the Targus Docking Station was very simple. I just hooked up and plugged in the power cord, installed the software from the included CD, and connected my laptop. I tested it with a HP Folio Ultrabook I had on hand with two 23-inch Dell U2311H flat panel displays (1920x 1080) connected to its DVI and HDMI ports (I used the HDMI-to-DVI adapter). My PC automatically detected the docking station and it initialized when I plugged the cable in to the Folio's USB port.
Using the Targus Docking Station
The Targus Docking Station incorporates the top range DL-3900 chip offered by DisplayLink from the company's latest DL-3000 platform for dual-head output support and Gigabit Ethernet,. In my tests, the display performance of the DL-3900 was delightful and clearly better than that of earlier generations of DisplayLink technology. I played a number of high-resolution YouTube videos without any skips or artifacts on the screen, and I had similar results surfing the Web and performing office productivity tasks. While copying several large files (DVD images) to an ioSafe Rugged Portable SSD connected to the Docking Station I saw transfer speeds of more than 120MB/s, or near the upper limit of its Intel 320 Series SSD capabilities.
But when I tried copying the same files over the Docking Station's Gigabit Ethernet LAN port I ran into a snag. File transfers over Windows Networking from a NAS could barely achieve 26MB/s, way below what I expected to see. Processor usage also spiked dramatically, slowing my Folio to a crawl, and applications on the two monitors also became unresponsive.
Subsequent tests with a faster laptop showed similar issues, which makes me think the Ethernet controller on the Docking Station is performing poorly. I'm not sure if the limitation is due to the DL-3000 platform or Targus's implementation. As a comparison, the HP Folio's own built-in Gigabit Ethernet port transferred files from the same source at 75MB/s. Another downside is that the Docking Station supports only PCs at the moment and not Apple Mac computers, due to the lack of a necessary device driver for OS X.
In Conclusion
While slightly pricey at $199.99, the Targus USB 3.0 SuperSpeed Dual Video Docking Station delivers excellent overall value and performance compared to many more expensive docking stations. Though its LAN performance was disappointing, that probably won't be a deal breaker for many users. And its USB 3.0 support gives it an estimated lifespan of at least 2 to 3 years and ensures it will be usable with future laptops.
The Docking Station can be purchased directly from Targus here.
The Targus USB 3.0 SuperSpeed Dual Video Docking Station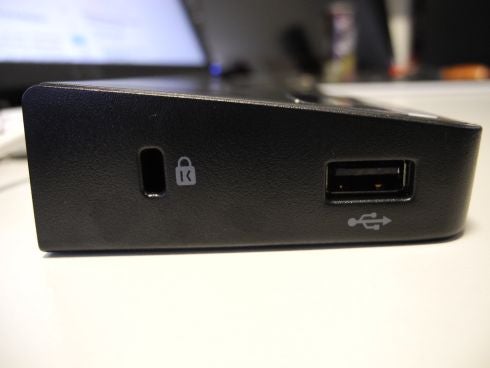 USB port and Kensington lock slot on the left side
Sound in/out and the "high-powered" (Note the lightning bolt) USB 3.0 port on the right side
Ports from left to right: USB 3.0 port, DC in, USB 3.0 from laptop, DVI, HDMI, Gigabit Ethernet, USB 3.0
Side view with laptop propped atop the dock