The emergence of affordable and accessible cloud solutions has enabled business users to do an end run around IT and provision applications on their own. Marketing and sales have been the most aggressive procurers of cloud services, according to the 2014 IDG Enterprise Cloud Computing survey.
Technology has become the foundation for these departmental operations. Marketers increasingly reach customers via digital channels, and a variety of cloud-based applications, from CRM to marketing automation, have emerged to help marketers track campaigns and customer interactions across mobile, social and web channels.
But while the increase of these "shadow IT" deployments have increased agility, they've often created a new set of problems: The survey found that 45 percent of cloud projects funded outside of IT end up coming back to IT, due to a lack of skills, security concerns and other problems. Companies may also end up with systems that lack a common foundation, which increases support costs.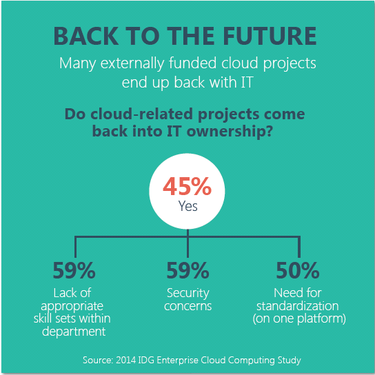 To avoid the problems associated with shadow computing, enterprise tech pros must improve relations with business and functional units, especially the marketing and sales teams. IT departments must become internal marketers in their own right, selling marketing and sales teams on the benefits of working with IT to deploy new solutions instead of going directly to the vendor.
Instead of restricting how employees work with systems – the dreaded "department of NO" syndrome – IT needs to open up the lines of communication to build stronger bonds with non-IT colleagues. Building those bonds starts with empathy: Understanding that employees who "go rogue" are simply looking to do their jobs as quickly and efficiently as possible.
Successful technology managers will also ground themselves in business strategy, instead of obsessing over bits and bytes. They need to familiarize themselves with industry dynamics, which includes an understanding how the company's partners and competitors use technology to drive business growth.
To strengthen collaboration, IT should identify tech-savvy executives in marketing and sales and forge alliances with them to propel the proper deployment and use of technology in those departments.
Building trust and a more collaborative relationship requires patience and persistence. Opinions have formed through the years so there may be skepticism about IT's intentions and its ability to change with the times. But the ability to serve as a partner instead of a protagonist is critical to the future of the IT organization – and the business as a whole.
Integrated collaboration suites provide departments with the tools they need, while combating shadow IT. They also help IT save time, money and sanity. Read this free eBook to learn more.