Electronics accessory maker Matrox this week took the wraps off of its DS1 Thunderbolt docking station, which is designed to bring the benefits of desktop computing to laptops and other mobile devices. Thanks to the Thunderbolt technology's 10Gbps throughput, peripherals such a portable storage devices can be easily connected to your laptop for data transfers at blazing speeds.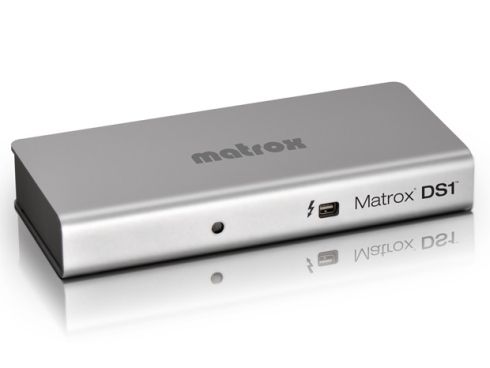 The $249 Matrox DS1 expands the capabilities of Thunderbolt-equipped MacBooks and other laptops by providing an additional wired Gigabit Ethernet port, a USB 3.0 port, two USB 2.0 ports, a microphone input and a speaker/headphone out port, all in an attractive aluminum chassis. The Matrox dock also has a DVI port that can be used to connect an external display, and a bundled DVI-to-HDMI adaptor can also be used to wire up an HDMI monitor.
From Matrox's Matrox DS1 press release:
"The new Matrox DS1 docking station easily enables the creation of an ergonomic workspace and brings much-needed expandability for printers, scanners, storage, smartphones, optical drives, cameras, flash drives, and other peripherals."
I'm not aware of any non-Mac laptops that come with Thunderbolt ports at this point in time, but that's likely to change as more ultrabooks and laptops based on Intel's new Ivy Bridge processor are released. Matrox says the DS1 will work on Windows and Mac OS X platforms, but Linux is not currently supported.
Matrox DS1 Doesn't Come with a Built-In Video Card
I was curious about the Matrox's DVI video port, so I reached out to Matrox. More specifically, I was wondering if the Matrox DS1 utilizes DisplayLink technology, like the Targus USB 3.0 SuperSpeed Dual Video Docking Station I reviewed in March, or if it comes with an embedded graphics processor. The answer is neither.
According to product manager Charles Amyot, the Matrox DS1 relies on the host computer's Graphics Processor Unit (GPU) output to drive video output. From Amyot's email message:
"We are essentially taking the second head of the video card, routing it through Thunderbolt to the DS1, which converts the image from the Display Port lane within the Thunderbolt signal to DVI/HDMI."
When used with a HDMI display with built-in speakers for example, Amyot told me that audio can be embedded within the HDMI stream as long as it is supported by the OS and the graphic card. Apple's current generation of MacBook Pros support the embedding of audio in this manner, but MacBook Airs don't.
Matrox DS1 Thunderbolt Dock: Conclusion
One glaring omission: the Matrox DS1 lacks a Thunderbolt port to connect additional Thunderbolt devices. I'm also disappointed that the DS1 only has one USB 3.0 port. I wouldn't expect multiple USB 3.0 ports to operate at the full max USB 3.0 speed of 5Gbps while used simultaneously, but having to plug and unplug USB 3.0 peripherals into the single port will get old quickly.
The Matrox DS1 should be available in September, and I'll do my best to get a review unit so I can write up an evaluation. Until then, you can view the product datasheet here (pdf).