World renowned consultant, educator, and author Peter Drucker said, "Efficiency is doing things right; effectiveness is doing the right things." When it comes to IT operational efficiency, doing things right means streamlining IT. By doing so, IT organizations can save time and expenses – devoting more resources to strategic activities. But, it's not about cutting corners. There is still a lot of work to do. IT needs to be sure that the changes we make don't sacrifice the quality of the product or service – in other words, we need to do the right things.
So, how do you trim complexity without sacrificing quality? According to some IT teams, adopting hyperconverged infrastructure is a solid step in the right direction.
Hyperconverged infrastructure can provide businesses with significantly increased efficiency, specifically operational efficiency. For example, according to a report from IDC, businesses who implemented hyperconverged infrastructure realized an 81 percent increase in time spent on new projects and innovation. Additionally, these businesses also saw a 33 percent increase in budget spent on new technology projects and purchases after implementing hyperconverged infrastructure. It is not a case of doing less – it is doing less just "keeping the lights on," while at the same time, delivering more value to the business.
Hyperconverged technology increases operational efficiency by combining 8 to 12 disparate IT components and services into a single solution that easily scales on demand, allowing IT teams to focus on accelerating business innovation. By massively simplifying the IT infrastructure stack, hyperconverged infrastructure improves IT agility and time to production, reduces IT costs and streamlines operations, and mitigates risk with enterprise resiliency and built-in data protection.
Customers polled in that same IDC study report that their IT operations saw a significant increase in efficiency once hyperconvergence was implemented. One IT administrator explained the increase by saying, "We're finding this [infrastructure] just runs, and because there's so much less complexity, so much less inventory and assets to manage, it gives us the ability to go work on other things that we had not had the time to in the past." What's more, customers noticed "… a huge reduction with IOPS across our environment."
The author of the paper, Eric Sheppard, Research Director at the IDC Corporation, commented, "Customers tell us that 'mitigating risk to the business' and 'supporting business revenue objectives' are the two most important business outcomes that can be achieved through the use of IT…It should be no surprise to learn that IT departments are increasingly looking for infrastructure that improves resource utilization rates while addressing productivity and agility within the datacenter. Organizations around the world have turned to converged systems to achieve just such goals."
The customers who participated in the study all have one thing in common: they chose HPE SimpliVity powered by Intel® as their hyperconverged vendor of choice. HPE SimpliVity stands apart from the competition with the ability to globally manage all resources and workloads from a single interface, and two of its features really stood out in customer survey results: the built-in data protection and accelerated data efficiency. IDC discovered that customers not only save time using HPE SimpliVity backup and replication features, but those who did were also able to retire third-party data protection solutions for HPE SimpliVity workloads. The survey found that:
Over 50% of HPE SimpliVity customers using the built-in data protection features are retiring their incumbent third-party backup and/or replication solutions.
79% of customers see significant improvement in backup and disaster recovery processes, due to global deduplication and replication features and greatly reduced RTO/RPO times.
75% of customers realize a 65% improvement in utilization of storage resources.
Customers make a compelling case that HPE SimpliVity hyperconverged infrastructure is effective in doing the right things and producing the desired results. As IDC indicates, "Hyperconverged scale-out and feature-rich systems are driving real benefits within datacenters around the world, impacting CAPEX and, more importantly, OPEX."
To learn more about the operational efficiencies that hyperconverged customers experienced, read the full IDC report. And for more information on hyperconvergence, download the free e-book: Hyperconverged Infrastructure for Dummies.
____________________________________
About Thomas Goepel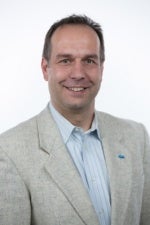 Thomas Goepel is the Director Product Management, Hyperconverged Solutions for Hewlett Packard Enterprise. In this role, he is responsible for driving the strategy of HPE's Hyperconverged products and solutions spanning from the Infrastructure Components to the Management Software. Thomas has over 26 years of experience working in the electronics industry, the last 25 of which at Hewlett Packard Enterprise, where he has held various engineering, marketing and consulting positions in R&D, sales and services.