Many USB-based products deserve a place in the enterprise, such as memory sticks or flash drives, universal chargers and password tokens. They are useful but generally unexciting.
But then there are the USB gizmos that provide little or no business value. These items, such as USB lava lamps, fans and other amusing desktop paraphernalia, lighten up employees' days and can shape comfortable, personalized office environments. And there are the wacky USB gadgets more suited for use in fraternity houses or toy stores than in office buildings. You know: circus cannons that fire festive foam projectiles. Memory sticks shaped like glistening Japanese cuisine. An android that breaks it down on your desktop dance floor…as long as it's connected to your USB port.
What follows is a list of our favorite USB gizmos from the latter two categories. We collected a handful of USB products CIOs would normally have no reason to check out—except perhaps to bar from the premises—but that we think you'll appreciate just the same.
But be forewarned: The following pages are sure to bring out the kid in you, so close that office door, draw the shades and get ready to giggle.
The USB Mini Fridge
"Does your cold drink getting [sic] warm while you drink it slowly? Now, you can carry a fridge to anywhere!!" reads USB.Brando.com.HK, where you can purchase your own USB-powered mini-refrigerator.
Keeping an open beverage near your computer is never a great idea. Everybody knows that electronics and liquids—especially the carbonated, sugar-saturated kind—typically don't mix. But Brando's trying to change that with its USB Mini Fridge, a tiny red unit that can fit a single 12-ounce can of your favorite beverage. We've seen USB refrigeration units that look like glorified hot plates, but the USB Mini Fridge is just that: a tiny replica of a real refrigerator.
The gizmo sells for $33, and it cools your Coke using 5 volts of USB power. It's even got a funky blue LED that lights up when you open the door.
The next time you spill soda all over your laptop, just show IT your Mini Fridge and they'll understand, right? After all, you couldn't just let something so cool go unused….
NEXT: When the office just doesn't smell right
Thumb-Size USB Fragrance Oil Burner
"Thumb Size USB Fragrance Oil Burner can aromatize your home, office, car, etc. Fragrance oil can also make you feel more relax while you are working," USB.Brando.com.HK's website states.
Candles, incense and other such ignitable products typically aren't allowed in most enterprise settings, presumably due to potential fire hazards. But we've yet to hear of an office that has banned USB-powered fragrance oil burners—perhaps because they just hit the market. Now you can "aromatize" all you want with the USB Fragrance Oil Burner. It looks like a typical memory stick with a small slot for oil, and it weighs 3 grams.
Appeal to your coworkers' olfactory senses with scents of rose, jasmine, peppermint and lavender. Each burner is a different color, based on which scent you select. The site says that you should use oil meant for use only with these specific burners; we bet you can expand your smell selection with oils from other producers.
Each burner retails for $8 and comes with one small bottle of fragrance oil. Your colleagues and staffers will be sure to visit your office more often, if for no reason than to crinkle their noses and ask, "What is that smell?"
USB Dance Pads for Feet and Fingers
"Dancing is great exercise, but it would be kinder to the world if most of us didn't do it in public," reads IWantOneOfThose.com.
Too busy to fit in the daily workout? Still excited from last night's episode of So You Think You Can Dance? Fear not, ye footloose fox-trotters: Red Octane's Ignition Dance Pad 3.0 plugs right into your computer's USB port, and it'll have you grooving in no time. Simply throw the pad on the floor, plug it in and hop around on its large buttons, in sync with software running on your computer. (Hopefully, your office has shades on both interior and exterior windows.)
The Ignition Dance Pad costs $80. It also works with Sony PlayStation and PlayStation 2 game consoles, as well as Microsoft's Xbox, in addition to plugging into your USB port-though third-party software or games are required and adapters for Xbox 360 and PS3 aren't yet available.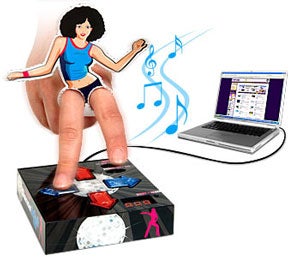 Perhaps you need to satisfy your dance craving but don't have room to set up a dance mat like the Ignition Pad. Or, for some reason, you fear the ridicule of coworkers. Either way, there's a USB-powered finger dance pad for you. You plug the palm-size pad into your USB port, stretch your fingers and follow a series of flashing lights to finger-dance stardom—or at least to early arthritis. You can play 30-second- or one-minute-long games. The lights blink more rapidly as you near the end of each time period. Music can be played during the games, and you even get a funky cutout of a disco-crazed, Afro-sporting woman to wear on your fingers. (Again, office window shades will come in handy.)
The finger dance pad sells for about $20, and you can track your success via a "move counter," though it's wise to remember that "success" is a relative term.
NEXT: Wish you could bring the pets to work?
The USB Aquarium and Hamster Wheel
You may have to leave your cats and dogs at home when you come to work, but that doesn't mean you can't have a pet at the office. The USB Mini Aquarium brings two lifelike tropical fish to your desktop.
You don't need to worry about changing the water—though it might not be a bad idea—or messing with any flaky fish food. (Okay, so plastic fish aren't as fun as lives ones, but you can't plug a real aquarium into your computer. Uh, yet.)
Fill the case up with water, plug it in and, voilà, you've got fish swimming around in your workspace. A motor can generate a small current in the water to make the fish-hinged tails and all-appear to swim. A blue LED can also be activated to illuminate the aquarium. Just 3.5 inches tall, it fits nicely on a desktop, and it retails for $20.
If aquatic life just doesn't do it for you, you've got other options. How about a USB-powered hamster wheel? (Again, the hamster's not real, but who wants a stinky little rodent in the office anyway? Sorry, hamster fans…)
The USB Hamster can lift the spirit when you're feeling overwhelmed by the whole corporate rat race. Load the accompanying software onto your PC—unfortunately, Mac users are out of luck—start typing, and your hamster will run along with you, increasing speed and slowing down when you do. The whole gizmo stands about 6 inches tall, and is about 5 inches wide, so it won't take up too much valuable desk space. It is a tad expensive, however, at $50.
There's something inherently wrong with the concept. We'd like to see a real hamster wheel generate enough electricity to power a laptop.
USB Smoking Accessories
"You are working late in front of computers…you want to grab a cigarette to lift your mood but happen to have no lighter with you. Can you imagine how dismaying this is?" writes Tao Ma, the creator of the E-Lighter.
Smoking is banned in many offices and public buildings across the United States. Unless you're employed elsewhere, you won't likely be using any USB-powered lighter or USB, smoke-absorbing ash tray at work-though smokers with private offices could presumably use the ashtray and a USB fragrance burner to hide their habits.
The E-Lighter, created by a Chinese industrial designer named Tao Ma, plugs into your USB port and somehow lights cigarettes. It's unclear exactly how it works. It's also unclear whether the actual lighter portion of the device is powered by USB or whether the USB power simply illuminates the lights along the gizmo's side. The E-Lighter is currently only a prototype, and the creator's website doesn't offer any release information or pricing, but it sure does look neat.
The USB Ashtray, which resembles a miniature, blue Volkswagen Beetle, includes a tiny internal fan that sucks up smoke and forces it through a neutralizing carbon filter. In addition to the USB power supply, the ashtray can also run on two AA batteries; it sells for $22.
Now put that in your USB port and smoke it!
We also found another, less attractive USB ash tray.
NEXT: Having a tough day? Firing off missile launchers and cannons always helps.
USB Projectile Launchers
"Feeling bored while working in the office or when nothing to do at home? Let's have fun with this USB great toy!!" the website for the USB Missile Launcher and Circus Cannon proclaims.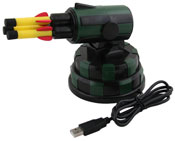 We've all had those days when pointing a missile launcher at the CFO's office seems like the best option. Now you can do so without drawing the attention of the Bureau of Alcohol, Tobacco and Firearms. The USB Missile Launcher is a small, green and black plastic gizmo that fires foam projectiles at targets up to 20 feet away. The launcher's USB cord is 3 feet long, and you can rotate it around its base and swivel the mechanism up and down about 45 degrees. It's controlled via mouse or keyboard and requires software (available only for Windows XP) that displays directional buttons and a "trigger" on your screen. The software includes prerecorded sound effects-alarm noises, explosions-and you can record and save your own sounds.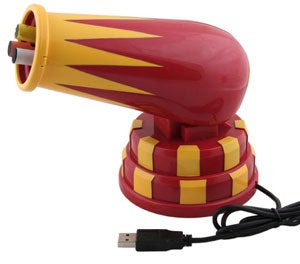 There's also a USB Circus Cannon, which is more or less the same as the missile launcher but with tiny bikini-clad women (or "babes") that can be shot into a pink circus net. Oh yeah, it also includes different sound effects and annoying calliope music.
The USB Missile Launcher and the Circus Cannon each sell for $35, including three projectiles and the accompanying software.
The USB Armageddon Hub
"The Armageddon Hub will not really destroy the world, your desk or anything else for that matter, it is a novelty product to make you smile," according to IWantOneOfThose.com.
Okay, so the name's a bit deceiving. The USB Armageddon Hub doesn't offer the potential for total and utter immolation of the human race, much less the marketing department. But it is a fully functional four-point USB hub that looks like an authentic Armageddon button. The 4-inch-high silver box has two switches and a key to activate the hub. After the switches are flipped and the key rotated, a red button lights up to warn you that you're on the edge of (imaginary) self-destruction.
The actual Armageddon button is housed inside a clear plastic case adorned with skull and crossbones. Should you choose to flip back the cover and depress the red button, your office will be filled with a honking sound that, the company promises, will make you and everyone around wish the end of the world were truly upon you.
The gizmo sells for about $72, and it makes a great desktop accessory for any corporate madman or enterprise supervillain.
NEXT: When personal computing gets a little too personal…
The USB Toothbrush and Shaver
Imagine being able to brush your teeth at the office without leaving your desk. Envision a world where you could save yourself an extra 15 minutes each morning by shaving when you get to work instead right after you wake up. Thanks to the USB Toothbrush and USB shaver, these fantasies can now become reality. (Just spit in your trash bucket and make sure those discarded whiskers don't end up between your keyboard keys.)
We're not sure why exactly anyone would want to brush his teeth or shave while tethered to his computer, but who are we to judge? The gizmos could come in handy while in transit, but personal hygiene and computers still seem like an odd mix.
The website for Impress, the Japanese corporation that produces the USB-powered gadgets, doesn't appear to include pricing information for the USB Toothbrush, but it does have photos from a retail shop in which the gizmos were sold for about $11. They're apparently also available in multiple colors. (If you brush your teeth at your desk, you probably want a toothbrush that matches your cubicle walls).
The USB Shaver looks similar to a typical Norelco electric shaver, but no wall outlet or battery is necessary. Simply plug this bad boy into your USB port and say sayonara to your five o'clock shadow. It's perfect for "those times when you're away from your own bathroom" and just happen to have access to a USB port. The shaver weighs just over two pounds and includes dual "floating heads" for an improved shave and maximized comfort. It retails for $40.
NEXT: Those aren't enough? For those who seek the strangest USB gizmos…
Bizarre USB Gadgets That Kind of Scare Us
Who doesn't want an android that can do the robot boogie? We couldn't help asking that question when we first saw the USB Dancing Robot. But then we noticed the crazed look in his shiny plastic eye and his inability to cease smiling. Now we're not so sure.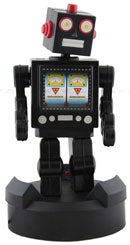 After loading the accompanying software, you plug the robot into a USB port and turn on some tunes. Your robot starts grooving in sync with your music, and a red LED flashes to the beat. The robot stands about 6 inches tall, the base is roughly 3.5 inches by 3.5 inches, and it'll set you back $25. You also need to be running Windows XP.
Tengu, the USB-powered block, is similar to the Dancing Robot, but instead of shaking it to your favorite tunes, the lights on Tengu's face form an electronic mouth that lip-synchs to your lyrics.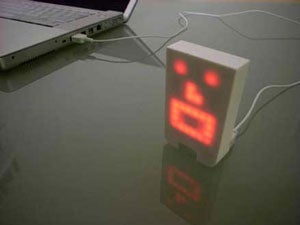 It looks like a large domino with no markings on it. And there's not much information available on the manufacturer's site; however, the page seems to say that you plug it into your USB port and then blow air at Tengu to activate it. There's also a video of a full Tengu choir belting out a tune. Tengu sells for about $38.
Perhaps the most bizarre of the USB gizmos on our list, GhostRadar is a USB mass storage device that purportedly detects paranormal activity.
In other words, the GhostRadar, which looks like an awkward handheld device made of plastic, tells you when your office is occupied by spooks and specters. It's available in 256MB and 512MB versions, and it sells for about $40—though the website doesn't specify if that price is for the 256MB or 512MB version. (Does the larger capacity detect more paranormal events or larger phenomena? We're not sure.) It also comes in both black and white.
Here's some (poorly) translated text from the GhostRadar website:
"You look at those which are not visible. Change of the magnetic field in the space and body change of the measurement person will be detected with the special sensor."
There are also a number of USB powered erotic toys available on the Web—are you really even the least bit surprised?—but we decided not to include images or links to those sites. We're not quite ready for CIO.com to be on your corporate list of "Not Safe for Work." If you're interested, do a Google search.
NEXT: Bored with that old memory stick that looks like a… memory stick?
Bizarre (and Occasionally Distasteful) USB Memory Sticks
USB memory sticks come in all shapes in sizes. What began as a method of doing away with large, awkward hard disks and other clunky storage devices has now become a means for any interested party to shove memory into as creative (read: strange) a package as possible. There are the sushi USB memory sticks. Also the real USB "thumb" drives. You can even find a decapitated Barbie doll memory stick.
Here are a few of our favorites:
What more festive way to celebrate the workday than with a mincemeat pie? These funky USB memory sticks look just like the most cherished of holiday culinary delights… except for a green light sticking out of each pie. A 128MB version is available for about $30, and a 512MB version is coming soon. Merry early Christmas, Hanukkah, Kwanza and all that.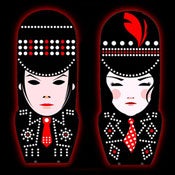 Rock stars are elevated to unimaginable heights in the minds of today's youths, baby boomers and anybody in between. So it shouldn't be any surprise (or maybe it should) that Jack and Meg White of the überpopular White Stripes have been immortalized in USB memory key form. Both Jack and Meg are available for purchase separately or as a set, and each has a capacity of 512MB. Their hats pop on and off to reveal the USB component, and a digital copy of The White Stripes' newest album, Icky Thump, is included with each. They sell for $58 individually or $100 for the pair.
Finally, we found a USB memory stick that looks like your dog…and it has at least one of his bad habits. The Humping Dog memory stick plugs into your USB port and, well, starts getting down to business. Just be glad it's not your leg. They are packaged in white, black and brown so you can match your own canine. The memory sticks are available for $17.95 each and $45 for a set of three. Unfortunately, the website doesn't specify storage capacity… which probably wasn't a key function of the product design anyway.
Al Sacco is a CIO.com online writer with entirely too much time on his hands.