(Update: Changed the maximum supported resolution to 2048×1152)
Lenovo's ThinkPad USB 3.0 Dock makes it simple for laptop-toting mobile workers to keep all of their computer peripherals connected when in the office or at a desk. The dock connects to your laptop via a single USB 3.0 cable, and it has five additional USB 3.0 ports, a gigabit Ethernet port and a stereo microphone port. Lenovo says the ThinkPad USB 3.0 Dock supports two external 2048×1152 high-resolution displays, and it uses the latest DL-3900 graphics chip from DisplayLink.
The dock comes with a USB 3.0 cable to connect your laptop and a DVI-to-VGA adaptor for use with VGA monitors. The Dock also ships with a slim power plug. Despite its ThinkPad name, the Lenovo dock works perfectly well with laptops from other computer makers.
The back of the ThinkPad USB 3.0 Dock. Note the three USB 3.0 ports. Two more USB 3.0 ports are located on the front of the device.
Using the ThinkPad USB 3.0 Dock
I usually use an older USB-to-DVI adaptor from DisplayLink to connect two of my displays to my PC. My laptop only has USB 2.0 ports, but I decided to use it along with the 3.0 dock to see how it compared to my ageing adaptors. I connected my two 23-inch LCD displays (Update: With 1920×1080 resolution each) to the two DVI ports on the Lenovo ThinkPad USB 3.0 Dock.
The improved display responsiveness when using the ThinkPad USB 3.0 Dock was stunning. The slight-but-annoying lags I used to see when using the mouse to make small adjustments on the screen were gone completely. I saw data transfer speeds of only 20MBps when copying a 4GB DVD image to my laptop from a shared folder on a NAS, but the relatively slow speed was because of my USB 2.0 port; the USB 3.0 ports should offer comparable performance Gigabit Ethernet ports.
The unorthodox shape of the ThinkPad USB 3.0 Dock is obvious when the device is placed on its side.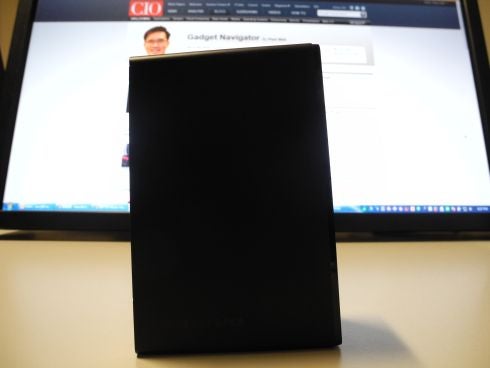 Another photo of the ThinkPad USB 3.0 Dock.
ThinkPad USB 3.0 Dock: Conclusion
In addition to the smooth display performance, I really like the Lenovo ThinkPad USB 3.0 Dock's design. The team at Lenovo built the dock in an irregular shape that prevents it from easily toppling over. A power button on top of the Dock can be used to turn it off, and a tiny red LED on the front lets you know when it is switched on. A Kensington lock slot can be used to secure your laptop to a desk or other surface. (Check out the following video for more on the dock's design.)
The Lenovo ThinkPad USB 3.0 Dock costs $179.99, which is a reasonable price. I'm still trying to decide if I want to purchase a new, more powerful laptop or build a desktop environment to properly support my current multi-monitor setup. If I do settle for the former option, I'll definitely be using the Lenovo ThinkPad USB 3.0 Dock.