In case you missed it, Apple announced approximately one million things on Monday during its WWDC 2012 keynote. There was plenty to get excited about in the iOS 6 department. For instance, Siri will tell us the latest sports scores, give us movie show times, and hook us up with restaurant reservations.
One announcement in particular aroused my interest: Apple's new Maps app. Apple is cutting Google Maps loose from its iDevices and replacing it with its own, new Maps app in iOS 6, which will be released in the fall. (No word yet if Google will submit its Maps app to Apple's iOS App Store.)
Apple's Maps app will include vector-based maps to supposedly provide detailed 3D graphics and text with smooth zooming and panning. Real-time traffic information will identify roadblocks ahead and provide alternative routes. And a "Flyover" feature will offer photo-realistic, interactive 3D views of major metro areas, Apple says. It all sounds good, though not particularly revolutionary; most of these features already exist in other apps.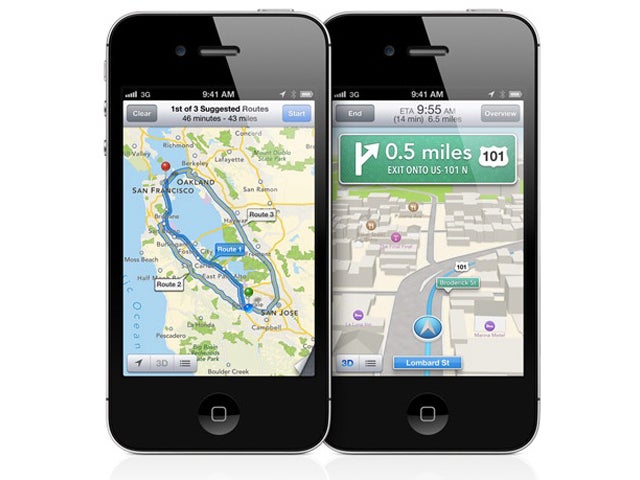 The most intriguing bit of news here, in my view, is that Apple's free Maps app in iOS 6 will have spoken turn-by-turn directions, which weren't available in Google Maps for iOS but are a feature in Google Maps for Android.
Turn-by-turn navigation is nothing new on an iPhone. However, at the moment, to get turn-by-turn directions on an iOS device, you need a third-party app. And the ones I've tried could use some guidance themselves.
AOL's free MapQuest app consistently gives me bone-headed directions in San Francisco, where I live. When I ask for directions to go across town, MapQuest often wants me to go in the opposite direction, take a left, and then take another left—just to follow a street that completely parallels the one I live on. Worse, it sometimes doesn't recalculate when I balk at its bad directions and go my own way. Granted, I've only been testing MapQuest for a few days. But so far, I'm not impressed.
I've had more success with Magellan's RoadMate USA (current promotional price, $35) both in San Francisco and in other cities I've visited. The app usually gives me good directions, and I arrive without incident. But sometimes, and I can never predict when, the app changes its mind while I'm en route. After it's told me, say, to turn right on 14th Street in half a mile, it will suddenly tell me to turn left on some other street—and to do it now. Then, just as suddenly, it might come up with another turn it wants me to take or go back to its original directions. It's as if the app is having a nervous breakdown. If you're in an area you don't know—which is a good reason to use GPS in the first place—these spasms of indecision could be downright hazardous.
Google Maps on my iPhone is a decent app, though it, too, has sometimes steered me a bit off course. I've used Google Maps' turn-by-turn directions on my Android smartphone and generally have had good experiences with it.
And so, this fall, we'll have a new mobile-maps option from Apple. Apple normally does a good, if not great, job with its iOS software, so there's reason to be optimistic. But I have two concerns. .
Apple is apparently licensing TomTom's navigation technology for the app. In all honesty, I've not tested TomTom's iOS app. (I plan to do so soon and report back.) I have tried several of its dedicated GPS systems, however. On more than one occasion, I received unnecessarily convoluted directions that made me wonder if the GPS system's default routing mode was "circuitous." My fingers are crossed that TomTom's navigation software has made great improvements as of late and will positively rock on the iPhone.
There's something else about Apple's Maps app that, frankly, makes me angry. Apple is restricting the app's turn-by-turn directions feature to the iPhone 4S, iPad 2, third-generation iPad, and of course whichever iPhone Cupertino unveils next.
I've run apps like RoadMate USA, MapQuest, and Google Earth on my iPhone 4, and it handles the processing pressure just fine without bursting into flames. So Apple's restrictions strike me as just another example of creating a desirable new feature—which Apple is so good at doing–and making you upgrade your hardware to get it.
This is no doubt a smart business direction for Apple. But if you own an older piece of iOS hardware, you may feel as if you've been left on the side of the road. If so, a word of advice: Don't ask MapQuest to help you get back home.