Despite the proliferation of tablets and other digital gadgets in recent years, the humble pen is still an indispensable tool. And the unique Solid Titanium Pen + Stylus is a stylish pen with a stylus on one end that can be used along with your smartphones and tablets.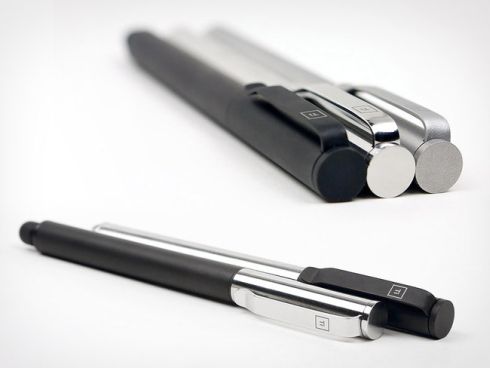 The Solid Titanium Pen + Stylus is made of solid titanium from the clip to the tip, as its name suggests–it's not just coated in titanium. And it works with more than 30 types of popular pen refills thanks to a built-in spring that holds refills in place. The pen is compatible with most refills from Mont Blanc, Waterman, Pilot, Uniball, Zebra and more.
The Solid Titanium Pen + Stylus is designed by Chadwick Parker and Joe Huang, who both have a history of successful projects on Kickstarter. The pen's project page states: "Our pen accepts more refills & brands than any other pen. Ever. We like to think of it as being a refill-ninja."
The pen has a conductive stylus on its end that can be used along with your favorite tablet or smartphone. And the stylus tip is removable, so it can be replaced it if gets damaged or worn down.
The Solid Titanium Pen + Stylus is available in three finishes: Bead-blasted matte black; high-polished chrome; and bead-blasted matte silver. An investement of $65 or more gets you one pen, a black pen sleeve, and a Pilot G2 refill. A smaller XTS version is also available for an additional $45. The creators of the versatile pen/stylus have already raised over $260,000 to date on Kickstarter, which is significantly more than the original funding goal of $30,000.
The pen is expected to ship in September, and shipping will be free. The pen's funding period ends in four days, so you should act fast if you want one of your own.