O how shall summer's honey breath hold out
Against the wrackful siege of batt'ring days,
When rocks impregnable are not so stout,
Nor gates of steel so strong but time decays?
–Shakespeare
I've been a huge fan of The New Yorker since David Remnick took the helm in 1998. It's a great read. Yet avid readers know well the guilt that comes with the magazine: Many stories – nay, entire issues – go unread. It takes a long time to get through a single feature story.
Who's got the time?
Like everyone else, I've got deadlines looming, coffee brewing, hours passing, the day is done. The New Yorker may not make it out of my backpack for a week. Sometimes I forget it's even there. When I whip out an issue and find the place where I left off, usually a folded page, the entire act feels like a commitment that will tie me down for an hour.
Enter the iPad, stage left.
The iPad has been dubbed the savior of magazines, and is promising to bring The New Yorker closer to my work day. I could fire up the app, quickly get to the right page, and start reading on my 30-minute train commute or lunch hour or 15-minute break. If I got an important email or instant message, I could deal with it right there on my iPad.
Of course, it took publisher Conde Nast forever to put The New Yorker on the iPad. When it finally arrived, the digital transformation was magical, with added features like sound bites, video and interactive images. Scrolling through feature-length stories in vertical view on the iPad was far better than flipping through printed pages.
I rated The New Yorker high on my list of 10 popular iPad magazines.
With The New Yorker iPad version, I've been reading a lot more stories – but not all of them. Part of the problem is that I don't always foresee snippets of downtime; they occur randomly throughout the day. I also don't have the iPad with me at all times.
Enter the iPhone, stage right.
Conde Nast just delivered The New Yorker on the iPhone newsstand. This week's issue is free, so iPhone owners can test it out. The iPhone version weighs in at a paltry 23 MB, compared to a 100 MB-plus iPad version. (AllThingsD's Peter Kafka says Conde Nast and Adobe "have finally figured out how to handle paginated HTML.")
Access is free to print subscribers, or you can buy a digital subscription or single issues. If you already subscribe to The New Yorker on the iPad, you get the iPhone version free of charge. It's much simpler than the New York Times and its convoluted pricing scheme. I have a monthly subscription to the New York Times on the iPad that doesn't include access to the iPhone version, which is ridiculous.
I haven't spent a lot of time with The New Yorker iPhone version, although first-impressions are pretty good. It's easy to read 105 iPhone screen-size pages of Atul Gawande's "Big Med," although I prefer reading on the iPad. Then again, it could be easy simply because I love Gawande's stories.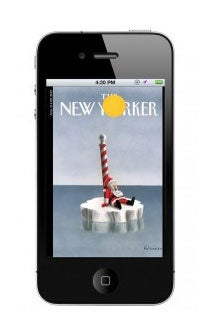 The iPhone lets me read for 10-15 minutes at a time, spontaneously and wherever I happen to be. My guess is that I'll get even more stories read because I'll have more opportunities to read them.
Nothing's perfect, and there are a few problems with the iNewYorker. For starters, it doesn't keep track of where you are across iPad and iPhone versions. For instance, I can't read parts of "Big Med" on the iPad and then immediately find my place on the iPhone. Scrolling is the only way to move around in a story.
I can't bookmark multiple stories, either. This is a problem when I have different stories in different issues and now on different devices going at the same time. Conde Nast needs to fix this problem, as readers try to fit long-form stories in their busy work schedules.
Why doesn't The New Yorker make better use of bookmarks? Edgar Allan Poe argued that stories work best when they're read in a single sitting. Remnick's profile of Bruce Springsteen in last week's issue would have been more impactful had I read it all at once, but that's just not realistic anymore.
There's no time. We read in pieces these days, and the iPhone makes it easier to do so.
At the end of the day, it's better read than not read, right?