The Moshi iVisor XT for iPhone is a screen protector that can be easily installed without the use of a messy application solution. The iVisor's hardened surface offers scratch protection, and it can be removed and washed.
To install the Moshi iVisor XT for iPhone you just peel away a protective film on its backside, which reveals an adhesive surface. Next you clean your iPhone's displays to do away with dirt and dust particles and place the adhesive side face down on the front of your iPhone 4/4S, using your fingers to keep the iVisor properly aligned. Finally, you apply pressure around its edges to secure it in place.
One reason the iVisor XT is so easy to install is that it is very stiff, which helps eliminate wrinkles, creases and air bubbles. In fact, I spent more time cleaning the screen of lint and dust than I did actually installing the iVisor XT. As such, it would have been nice if Moshi included a larger microfiber cloth than the small circular cloth that came with the iVisor XT.
When I first applied the screen protector, a large rainbow-like pattern was visible beneath the iVisor when viewed from an angle. But the pattern is not visible when the iPhone is in use, and only a sliver of the rainbow remained a couple of hours after the initial installation.
The Moshi iVisor XT screen protector can be easily installed in seconds.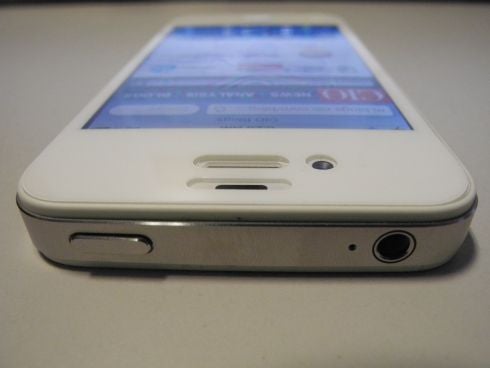 Close-up photo of the Moshi iVisor XT.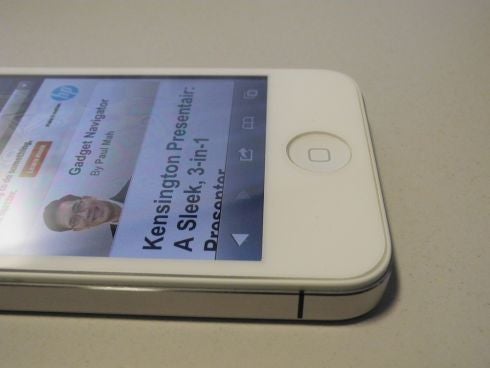 Another close-up photo of the iVisor XT.
The iVisor XT is a little thicker than your average screen protector, and that thickness could be a problem for users with tight-fitting smartphone cases. However, I was able to use it with the tight-fitting OtterBox Reflex Series case without harming the screen protector after some careful squeezing.
Moshi says the screen protector can be removed and washed using mild detergent and water whenever necessary; you just need to let it dry by placing it on a paper towel with the adhesive border facing upwards before reapplying. The iVisor was not designed to be indestructible, though; bending and folding it will create permanent crease marks.
The Moshi iVisor XT for the iPhone 4/4S costs $25, and it has an edge over competing screen protectors due to its ease of installation. Moshi also offers an iVisor AG (with a matte surface) for a variety of popular Android-based devices including the Samsung Galaxy S III, Kindle Fire and HTC One models.
The iVisor XT before application. On the right is the included microfiber cloth.