It's easy to forget that Memorial Day isn't just about backyard barbecues or trips to the beach. It's also about taking time to remember our deceased war heroes. Ballista Media's Timeline World War 2, an absorbing new iPad app, is a great way to do just that as you zip through the events of that epic war.
The app (current version 1.0.1) has a timeline interface. You can swipe your way through the war in chronological order, stopping to read brief articles about battles, events and bios of key players. Or you can jump around to see what happened in, say, October 1944—a time I went to immediately, to learn what was going on when my Uncle Stafford's plane was shot down over Burma. If you're interested, I wrote about him recently in my personal blog, A Southerner in San Francisco; that's his pic below.
The app's content is rich with photos and newsreel footage that can be viewed in full-screen or thumbnail views. The software includes more than 100 newsreel films from U.S. and British news archives, some 600 still photos, and a detailed map that shows invasions, occupations and country boundary changes. The developer claims it is "the only such timeline map anywhere in the world."
You can choose between two audio tracks when watching the often-fascinating newsreels: the original newsreel soundtrack or commentary by Robert MacNeil, in the U.S. version of the app, or Dan Snow in the app's U.K. edition. You also can filter the timeline by a variety of criteria including battles, locations, people, ships and newsreel footage.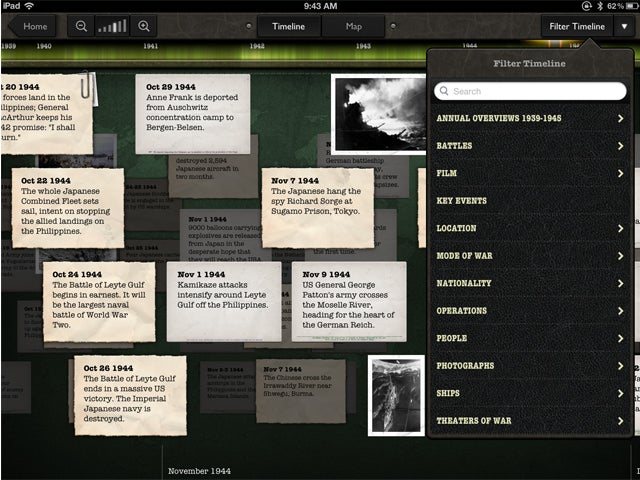 Timeline World War 2 has a few minor areas that could use some improvement—a few typos here, a crash or two there. Otherwise, the app does an admirable job of making an enormously complicated chain of global events easily digestible. Perhaps the only thing of importance missing is the war's huge emotional impact. But if you have your own version of an Uncle Stafford, you already know what that feels like.