"C U in a sec." "Sounds great." "Running late."
Most SMS missives like these are barely worth reading and definitely not worth saving. But you might want to save some texts, especially those with accompanying photos, in case your smartphone gets lost, stolen, or destroyed.
Uppidy aims to ease your mind when it comes to those precious SMS messages. The service combines free Android, BlackBerry, and iPhone applications with free cloud-based text archiving. I tested Uppidy on my Android smartphone (current version 12.03, updated May 14). I was going to test it on my iPhone too but I decided against it—more on that in a minute.
You get started with Uppidy when you register via the smartphone app or its website. After downloading the Uppidy app, you're asked if you want to back up your text messages. Once you're up and running, you can choose how often Uppidy syncs texts to the cloud—every one, two, five or 10 minutes. Or you can manually syncyour SMS messages. Syncing will affect your smartphone's battery, so it's generally a good idea to sync less frequently, say, every 24 hours.
Uppidy also attempts to make your text messages social. Once you've linked your smartphone to the service, texts that start with "#upp" are automatically posted to UppidyLive, which is like a Twitter stream for Uppidy members' text messages.
Judging from the staleness of the messages I saw, a more accurate name for UppidyLive would be UppidyReruns. On a late May morning, the majority of messages "streaming" on UppidyLive were from 2011. And they were repeated frequently.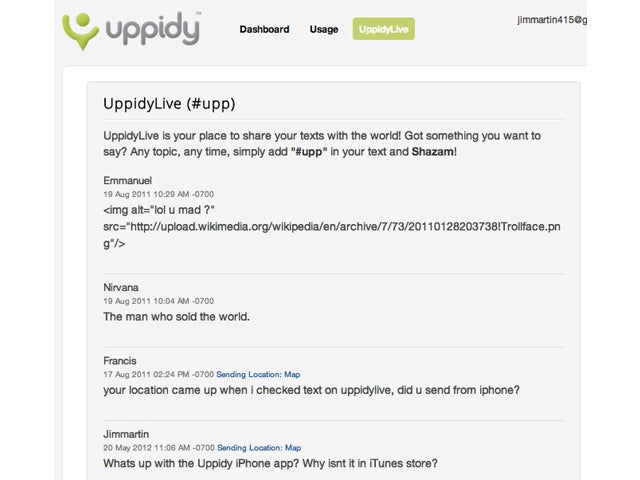 Uppidy lets you sort messages by sender and date, and you can share messages on Twitter, Facebook, and Google+. You can also track your SMS usage during the previous three months with Uppidy graphs.
Uppidy doesn't backup photos that come with your text messages, unfortunately. You can't download archived messages from the cloud to another device. And you can't send or receive text messages from the website, which would be a valuable feature.
Now about that iPhone Uppidy app. There isn't one in Apple's iOS App Store. Instead, you must click a link on the Uppidy site to download an Adobe AIR file that lets you manually load the app onto your iOS device.
However, when I started to install the app, I saw the following message:
Does that make you a tad apprehensive? Me too. If Uppidy can't make it easy and secure for me to use its iPhone app, I'm not going to install it.
The free Android app SMS Backup + easily beats Uppidy, because it automatically backs up your Android texts—pictures included—to your Gmail account. That makes a lot more sense; that way your texts and email are in one searchable inbox.
Uppidy is okay if all you want to do is backup SMS messages from an Android or BlackBerry device to the cloud. Otherwise, I'd say "C U later" to Uppidy.