Sony says the XBA-NC85D noise canceling earphone are world's smallest and lightest headphones of their kind, and they incorporates the company's digital noise-canceling technology. The incredible size is possible due to Sony's new micro-sized Balanced Armature Drivers, which free up additional room in the earphones and eliminate the need for a separate box for audio components and/or controls.
You charge the XBA-NC85D's built-in battery by plugging the earphones into a 3.5mm jack that's part of a USB dongle that comes with the headphones. Users who are always around a laptop or desktop will have no problem keeping the XBA-NC85D juiced up, and that's important because the XBA-NC85D doesn't work if its battery is dead.
I tested the XBA-NC85D with my iPhone, and found its overall music playback to be lacking when compared to other comparable headsets, including the XBA-3 earphones I reviewed last year. This isn't a surprise since the XBA-NC85D comes equipped with only one BA driver versus the XBA-3's three drivers. However, the full-range BA driver on the XBA-NC85D did produce sound that was cleaner than the sound from a conventional earphone driver unit.
You turn the XBA-NC85D on by pressing the power button on its attached cable. The earphones have three modes for reducing ambient noise: "NC Mode A" for airplanes; "NC Mode B" for users who commute by bus and train, and "NC Mode C" for use in office environments. Noise cancellation modes are selected automatically, with no way to switch manually between them. A tiny LED light on the right earpiece blinks to let you know which noise-cancellation mode is active– once every five seconds for NC Mode A, twice for NC Mode B and three times for NC Mode C.
I really wasn't impressed with the XBA-NC85D's noise-cancelling features, which were only marginally effective in removing background noises. The earphones also produce a slight hiss when used in a quiet room, which can be annoying when listening to music with stretches of silence or when played at very low volumes. I will say that this background hiss isn't unique to the XBA-NC85D, though the inability to disable the noise-cancellation function does make it more annoying.
Conclusion
I believe Sony started out with a noble initial goal: To create a seamless noise-cancellation earphone that is small, weighs virtually nothing, and eliminates the need for a clunky control box. They have certainly succeeded on the engineering and specifications front, but the product offers mediocre performance, at best. This reality oupled with fact that Sony has pegged the earphones with a surreal price tag of $499.99, means I really do not recommend the XBA-NC85D.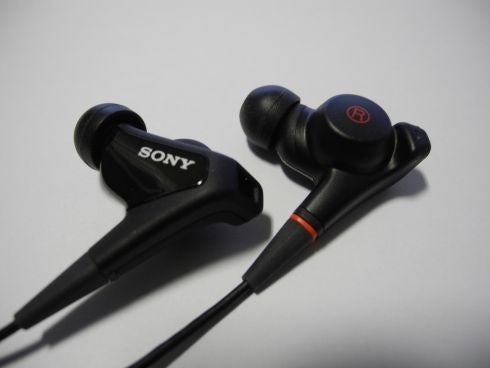 A show of impressive engineering: Earphone, rechargeable batteries, microphone and noise-cancellation circuitry all incorporated into the eaprhones.
The on/off toggle located inline doesn't weigh down on the cord.
This proprietary USB dongle is required to charge the XBA-NC85D
Sony has included a nice, rigid case to protect the XBA-NC85D when on the move.
The XBA-NC85D comes with a clip to hold the cord in place, a cord adjuster and an airplane adapter.