The Ergotron WorkFit-S, LCD & Laptop Sit-Stand Workstation is an LCD monitor and laptop docking station and table-like keyboard/mouse stand all in one. It's different than other workstations, monitor "arms" or laptop holders because the manufacturer designed it with ergonomnics in mind, and you can use it while sitting down or standing up.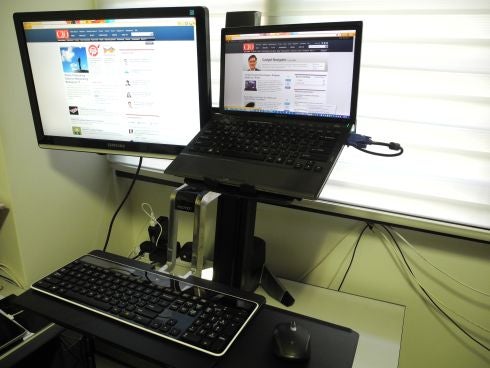 Two reasons why you might want to use the workstation while standing up: It can help you stay comfortable, awake and aware; and standing also burns more calories than sitting. Ergotron even set up a Web page to help compute the number of calories burned based on your weight and the number of hours spent standing. The WorkFit-S can also eliminate the need for expensive height-adjustable chairs, according to Ergotron.
The Ergotron WorkFit-S requires some minor assembly prior to use, but everything can be done without special tools since all necessary bolts and allen keys ship with the gadget. The build quality of the various components is exceptional, and putting them all together was relatively straight forward thanks to a detailed installation sheet. However, some of the components are heavy and it's probably a good idea to enlist an assistant for the assembly, if possible.
A counterbalanced adjustment system that simultaneously lifts the keyboard, laptop and LCD screen to the desired height helps the WorkFit-S smoothly transistion between sitting and standing modes. And the system worked flawlessly in my tests. Once locked into position, the WorkFit-S felt rock solid and easily bore the weight of my 21.6-inch LCD monitor and laptop. My LCD monitor is far heavier than my laptop, but once attached to the workstation you couldn't tell; balance was in no way affected.
On the downside, the cost of the $400 WorkFit-S makes it a rather hefty investment. And the retractable mouse tray is basically useless because it saves so little space. I suspect Ergotron knows this and that may explain why it sells a large keyboard tray for the WorkFit-S. (The accessory will set you back an additional $50 though.) My final complaint is that even though the WorkFit-S can be adjusted to three different heights, I bet some taller users will find it too low. This is even more of an issue since the LCD monitor is mounted in place at an angle that tilts slightly downward and it can't be adjusted.
I don't currently plan to purchase the Ergotron WorkFit-S, LCD & Laptop Sit-Stand Workstation, but my reason has nothing to do with the quality of the WorkFit-S. Instead, I'll hold off on the purchase because I find that I don't write as well when standing up. But I can definitely see how the versatile WorkFit-S Workstation could appeal to health-conscious folks who work better when on their feet. And a few diferent versions of the WorkFit station are available on Ergotron's webpage.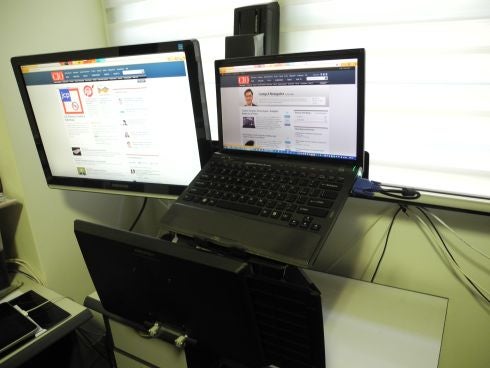 The Ergotron WorkFit-S Workstation's keyboard tray can be folded up to save space
Sideview of the StandFit-S Workstation
The height of the StandFit-S is adjustable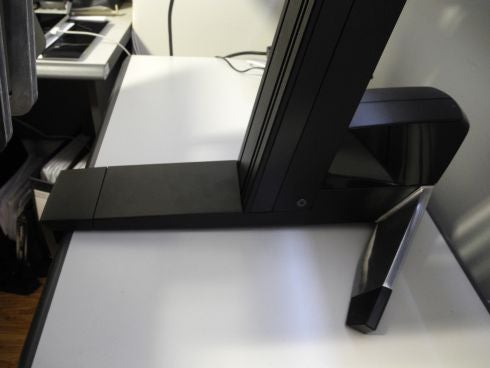 The base support of the WorkFit-S doesn't take up too much space and is stable