(IMPORTANT SECURITY UPDATE added on 2.11.14. See the bottom of the post.)
Still in shock over last week's sudden demise of Flappy Bird, the hit iOS and Android game? Relax. The app you downloaded to your device should still work.
But what if you didn't download it and want to find out what all the fuss is about? Or you want a backup, in case the device you installed Flappy Bird on dies? Here are three ways you can get the incredibly simple, and yet extremely difficult, game. They're not necessarily easy or inexpensive options. But hey, when your goal is to make a bird avoid a series of pipes, life isn't always pretty.
(If you want some backstory on the Flappy Bird flap, check out TechHive's update.)
1. Get a Windows Phone
There's still a free Flappy Bird Windows Phone app that looks and feels like the original iOS and Android apps, which were mysteriously yanked recently from those app stores by the developer). So if you're mulling a switch to Microsoft's smartphone platform, Flappy Bird could be your tipping point. Or if you can borrow a Windows Phone from a friend, even better.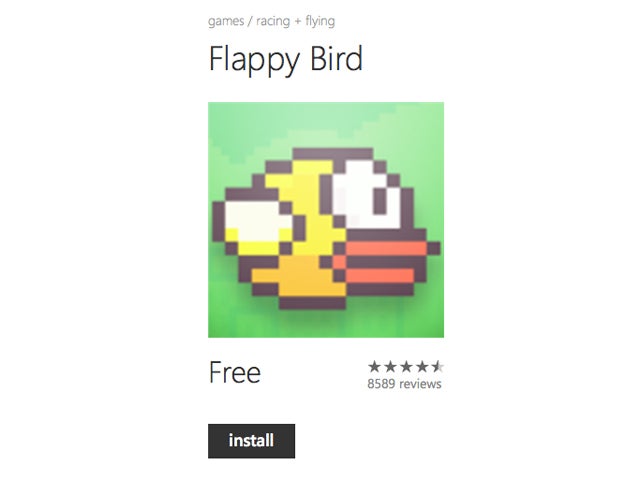 Version 1.0 of the app went live on the Windows Phone app store Feb. 6, and was posted by developer IG Mobile. The iOS and Android Flappy Bird apps were developed by Dong Nguyen. So far, it's not clear if IG Mobile is in partnership with Nguyen, or if the Windows Phone lookalike app might disappear too, due to copyright issues. For now, though, the app is there for the taking. You can also get a Nokia Lumia 520 Windows Phone from AT&T for just $59 without a contract.
2. Buy a used iOS or Android device with the app installed
Not surprisingly, some are trying to cash in on the no-supply/high-demand Flappy Bird situation by selling their smartphones or tablets with Flappy Bird installed on eBay. GameSpot on Monday reported that one eBay auction went up to nearly $100,000. But the auction, as well as another that reached $90,200, soon vanished.
As of this writing, a search for "Flappy Bird" on eBay showed some Flappy Bird/device auctions up to $350,000 — one with a $5 million Buy It Now option. To my astonishment, some such eBay auctions have already ended in a sale. Example: An iPhone 5s with Flappy Bird sold for $10,100. I could almost see the proverbial parting of a fool and his money.
3. Download the Android .APK
IntoMobile posted detailed instructions on where to find the Android application package file (.APK) and how to install it in four steps. FYI, you'll need an Android file explorer app to complete the job. You'll also need to be comfortable installing apps downloaded from sources other than Google Play or other official Android app sites.
Of course, all of this could be a publicity ploy. Flappy Bird could eventually come soaring back to the iOS and Android app stores, maybe even in a new version. Perhaps the developer will sell the rights to another game company. In the meantime, Flappy Bird fans, maybe it's time to check out another simple but maddeningly difficult game such as Clumsy Bird (free; Android only) or Tiny Wings ($1; iOS only).
(UPDATE 2.11.14: In a blog post, security vendor Trend Micro said a "bunch of" fake Flappy Bird Android apps had spread online. "All of the fake versions we've seen so far are Premium Service Abusers — apps that send messages to premium numbers, thus causing unwanted charges to victims' phone billing statements." In addition, the malware "poses a risk of information leakage for the user since it sends out the phone number, carrier, Gmail address registered in the device." In other words: Downloading a fake Android Flappy Bird app is probably a bad idea.)