If you frequently find yourself eating and drinking at your work desk–and making a mess in the process– Logitech's Washable Keyboard K310 could be for you. As its name implies, this USB-wired keyboard can be washed by dunking it in water, and it will simply shrug off the occasional coffee or soda spill.
The Logitech Washable Keyboard K310's keys can be pried out and reinserted.
The Logitech Washable Keyboard K310's key characters are laser printed and UV coated for readability and to ensure that letters don't fade after a wash, according to Logitech. The K310 should not be washed inside a dishwasher, and it should not be cleaned with abrasives, alcohol, solvents or hash detergents, Logitech says.
Drainage holes on the underside of the Logitech K310
The keyboard's USB plug is not waterproof, and a cleaning brush attaches to the bottom of the K310
Washability aside, the K310 is a full-sized keyboard with chiclet-style keys and a standard number pad. It is relatively lightweight and works right out of the box with no software driver required. The K310 has a number of shortcut keys that can be used along with the function-key. The standard F1 to F12 keys are also still accessible.
I particularly like the K310's long USB cord and handy brush that makes it easy to clean crumbs from under the keys. I like the feel of the keyboard overall, and its scratch resistant surface means that the K310 will likely look good for a long time to come.
Detailed cleaning instructions are printed on the underside of the keyboard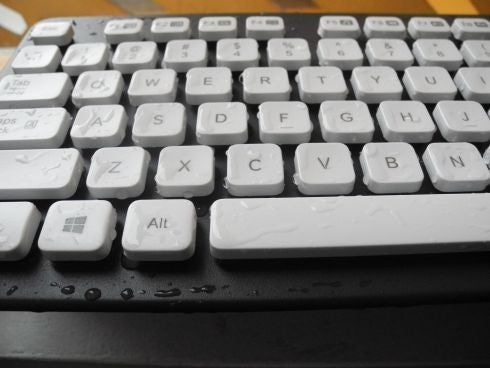 The K310 after a recent rinse
Logitech Washable K310 Keyboard: Conclusion
I've never really spilled anything on my keyboard. But it's still nice to have a washable keyboard, because it's easy to quickly clean off the grime and dust that accumulates over time. This keyboard would be great for people who work in mess environments, too. I prefer using a wireless keyboard though, and the product would be more valuable if Logitech created a washable (or water resistant) wireless keyboard.
Still, the K310 is a well-constructed keyboard that is worth its $40 price tag. The K310 is currently shipping and can be purchased on Logitech's website.