Toilet paper is now being priced like airline tickets, according to the The Wall Street Journal. In other words, online retailers are hooked on the dynamic-pricing drug, and they're changing prices for products from "toilet paper to bicycles on an hour-by-hour and sometimes minute-by-minute basis," the Journal says.
Those of us who buy lots of tech products all are too familiar with these frequent, and sometimes dramatic, price fluctuations. That's why Decide.com is a useful service, both on the Web and via its free iOS and Android apps.
Using Decide.com is fairly simple. Either online or on its Android or iOS apps, you type in the name of a product you want. You can also browse by categories or use your smartphone to snap a photo of a product's barcode. Decide.com tells you if it's a good time to buy the product, based on past price fluctuations, and how long the gadget has been on the market. You can compare prices from online retailers and nearby stores; read reviews; and find technical specifications. You can also sign up to receive alerts if a product's price changes.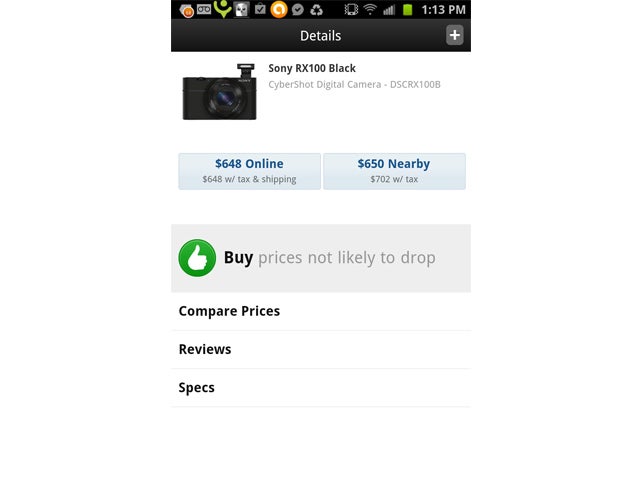 Decide.com recently added a potentially awesome new feature: a price guarantee. If you purchase something the site has recommended as a 'buy' and email your purchase confirmation to Decide.com by 11:59PM Pacific Time on the same day, and if the price for that product drops within 14 days of your purchase, Decide.com will reimburse you the difference up to $200. Refunds are issued via PayPal. You don't actually buy products through Decide.com. You just need to use the site to know whether or not a product has received a 'buy' recommendation. Decide.com will track the product's pricing after you send it your purchase confirmation.
For these reasons alone, it's a good idea to install the Decide.com app on your iOS or Android device. Unfortunately, the apps don't fully compare to the service you get on Decide.com's website. For example, the website provides product ratings based on user and expert reviews, but those ratings are curiously absent from the smartphone apps.
The apps have other limitations, too. In my tests of both the iOS and Android app, nearby retailers weren't listed in order of proximity. I live in San Francisco, and yet the first "nearby" retailer listed was a Best Buy in Marin City, 9.3 miles away. The actual closest retailer, a Best Buy in San Francisco at 2.2 miles from me, was halfway down on the second page of the nearby-retailer listings.
Despite these drawbacks, Decide.com's apps are essential additions to your mobile-app collection. However, please note: neither the service nor its apps will protect you from the price fluctuations of toilet paper. Yet.